Tourist Office Stechelberg
CH-3824 Stechelberg
Tel. ++41 (0)33 855 10 32
E-Mail: info(at)stechelberg.ch
Wildlife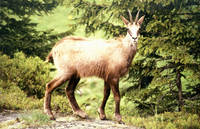 The Chamoix or Gemse (Mountain Goat) are the most common species in the Lauterbrunnen Valley. Only recently, the Reh Deer can also be spotted in small numbers. The Marmot is a common sight and a noticeable spectacle.

In the last twenty years of this century the Ibex or Steinbock grace the Lauterbrunnen Valley again. With some luck you may come across a small herd grazing amongst the cliffs.

Snow Hare, Foxes and Martens also inhabit the Nature Reserve. Typical alpine fauna includes birds such as the Snow Grouse, Alpine Chough, Raven and Wheatear, just to name a few.

In any case, it's worth having a set of binoculars handy, should you chance spotting a Golden Eagle. The Golden Eagle breeds annually in alpine regions. There is thought to be 100 to 150 breeding pairs in Switzerland. It lives in the high mountains, on cliff walls and preferably above the tree line. Occasionally, they may be spotted in the Valley during winter.

The Eagle is usually observed sailing or in gliding flight. It takes its prey by surprise however, close to the ground. Its food consists mainly of mammals and birds. Depending on the habitat, this may include Marmots, Hares and Grouse.