Tourist Office Stechelberg
CH-3824 Stechelberg
Tel. ++41 (0)33 855 10 32
E-Mail: info(at)stechelberg.ch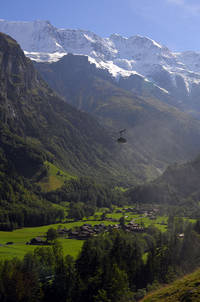 The idyllic mountain village of Stechelberg at 922m lies at the entrance to the upper Lauterbrunnen valley. The gushing Trümmelbach falls attracts visitors from near and far - you too can experience the unique glacial waterfalls within the mountains in Europe.
The well-signed UNESCO trail to one of the biggest nature reserves in Switzerland stands out with its seclusion, its wild Alpine scenery and impressive panorama of several summits over 3000 and 4000 metres.
Relaxation in the refreshing mountain air and vivid encounters in nature are guaranteed here. The three isolated "candle hotels" accessible only on foot offer the possibility of a nostalgic overnight stay.